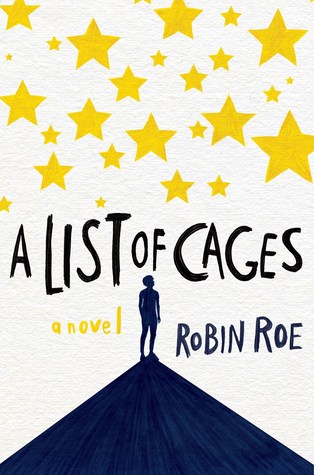 Title:
A List of Cages
Author: Robin Roe
Genre: Young Adult Contemporary/Realistic Fiction
Length: 320 Pages
Release: January 2017
I received a copy of this novel through Netgalley in exchange for an honest review.
Review
A List of Cages was even more emotionally draining than I expected, and I was prepared for it to be quite intense. At times the writing and things that Julian (one of our main characters) would do really reminded me of Neal Shusterman's Challenger Deep (which I adore). Later on it had kind of a The Perks of Being a Wallflower feel. It wasn't particularly similar to either of these novels, but they both came to mind while I was reading, for mostly good reasons.
Our two leads in this novel, Julian and Adam, were very realistic teenagers. Julian is suffering under a lot of pressure, dealing with bullies and his outcast status, just trying to make it through life as a freshman. Adam is finishing his senior year and is the guy that everyone likes, he's one of those people that everyone wants to be friends with. The best thing about the relationship between these two is that Adam isn't a character that needs to be changed. He's genuinely nice and caring, easily makes friends, and connects people that would not be connected otherwise.
The side characters are enjoyable for the most part. Charlie, one of Adam's best friends, is probably my favorite of the minor characters. You get more hints about what drives him than you do about the others. You see him changing throughout (to an extent). Emerald was likable, but I never felt overly connected to her character. Adam's mom was another nice but not overly memorable character.
This novel deals with some really difficult subjects, but I don't want to get too much into that because it could be somewhat spoilery. Overall I think it handled these subjects very realistically and was informative. There were some things with pacing that I didn't particularly enjoy, a few details that were skimmed over, and the ending was a little cleaner (and also a little messier) than I would have liked. Some of the larger plot points were given very definite conclusions, which I think was a little extreme, and some of the smaller pieces were left a little mroe open than I would have liked.
This is a well written novel about the relationship between two teenage boys who enter each others lives again and again, just when they both need it most. This is an addictive read with some great messages that a lot of readers could benefit from.