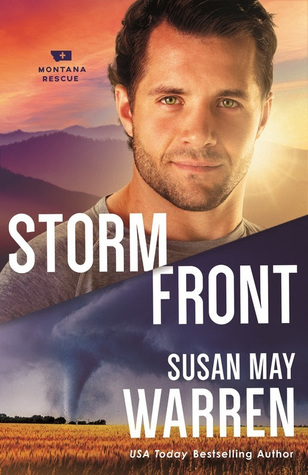 Title:
Storm Front
(Montana Rescue #5)
Author: Susan May Warren
Genre: Romantic Suspense
Length: 336 Pages
Release: May 2018
A copy of this novel was received through Netgalley in exchange for an honest review.
Review
Susan May Warren continues the story of Montana's PEAK Rescue team members in "Storm Front," which focuses on former chopper pilot Ty Remington and journalist Brette Arnold.
Ty is still struggling to find his role in life. He feels like he's just the muscle and go-getter for PEAK, feeling deeply inadequate and inefficient. And he still struggles with the fact that the woman he fell madly in love with, Brette, has walked out of his life without one single look back.
But what he doesn't realize is that Brette, who is currently working with a storm chasing group as a photographer and blogger, has had struggles of her own — devastating struggles that she feels she must face on her own.
When the two are brought together after a devastating tornado in Minnesota, can they put aside their fears and doubts to help friends — new and old — find missing loved ones? And can they come together in truth and honesty to build a relationship?
"Storm Front" is an action-packed, heart-thumping novel that quite simply is difficult to put down. With devastatingly powerful storms, missing people and search parties, it also includes toe-curling romance.
Once again Susan May Warren develops incredibly real and relatable characters — filled with doubts, fears, insecurities, hopes and lack of hope, and just about every other imaginable flaw. It deals with overcoming great loss, and she also does a brilliant job of not only providing an incredible story, but also teaching amazing lessons.
The main theme, as the title hints at, deals with weathering the storms of life, and how each of us chooses to weather those storms. She reminds us to "accept the storm and ride it out without a whimper". "Storm Front" reminds us that we must look past the storm and find the sunshine, or the hope, in each situation.
And through Brette's personal battles, this novel also hits on the topic of beauty, both inner and outer, and the difficulty in finding the beauty in ourselves.
This is the fifth book in a series, but could be read as a standalone, although I would highly recommend reading the rest of the books. However, I do feel Warren offers enough background if this is your first experience with the Montana Rescue series.