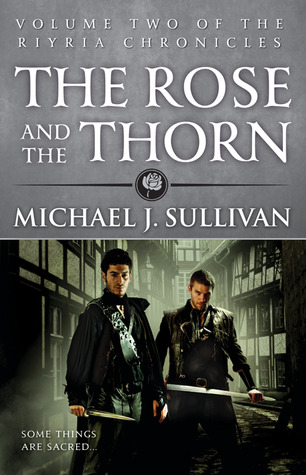 Title:
The Rose and the Thorn
(Riyria Chronicles #2)
Author: Michael J Sullivan
Genre: Fantasy
Length: 347 Pages
Release: September 2013
Review
Is it even possible for this man to write a book that I don't like? I really hope not, because I am loving that I love these books. If you are wanting to start the adventures of Royce and Hadrian, I would personally recommend that you begin with the Riyria Revelations (
Theft of Swords
being the beginning), and then come back for the Chronicles. These give a lot of insight into little things from that series, so I think you can appreciate them more.
But let's stop talking about that and get into talking about
this
book. Because it was great, it really was. There may be
slight
spoilers for
The Crown Tower
in this. I am going to avoid them as much as possible.
"I don't have many friends. I can actually count them all on one hand and not use all my fingers. Like anything rare, they are precious. And yes, I get mad when one is hurt."
The plot of this one is darker than that of
The Crown Tower
in a lot of ways. Gwen, one of our main characters from that first novel, is badly beaten by a high ranking noble for not adequately answering his questions. When Royce and Hadrian return to Medford, they are not happy, to say the least.
Royce is by far my favorite character of all the Riyria books and I think I love him a little more after every one. He can be downright terrifying, but he's also extremely loyal if you give him a real reason to be. He's used to people being selfish, to everyone taking and no one giving, to surviving in a kill or be killed world. It can be hard to change from that mindset.
We get to see some of the darker side of Royce here, maybe the darkest we've seen him, as he sets out to protect those he cares about. After having seen this side of Royce, it just makes you wonder what he was like before. Crossing Royce now is a gamble you wouldn't want to take, but crossing him before... Well, that would not have been a good idea.
"He wanted to wash the blood off, but he could never rid himself of the stain."
Every coin has a two sides and the other side of Royce's is Hadrian. Where Royce is dark, Hadrian is light. He's not an innocent kid, he's made mistakes, shed blood, but he's known friendship and love, he dreams of a life where blood doesn't have to be spilled to make a living, where people are honorable and good.
Hadrian struggles a lot in this book. He's haunted by his past and unsure of his future. Despite their differences, Royce is really the one constant he seems to have now.
And reading about these two together is the best.
Throughout the story, I really just wanted to reassure this guy. He puts up a good front for the world, but he can't be entirely happy, it seems. I can relate to that.
"Never having known such admiration, or even the support of a real friend, it was as if he'd only realized he was hungry after smelling food."
I don't know why, but I was surprised to have so many of the characters from Revelations show up in here. And I was particularly surprised to have Reuben Hilfred show up as a main character. But it was a pleasant surprise. It really made his character deeper than he had been before, knowing his background and what he had been through. It also made me really sad. Hilfred did not lead a happy life.
While I did enjoy all of Hilfred's story and getting to see the young Arista and Alric, as well as getting a better view of King Amrath, the real highlight of this side of the story was
the Pickerings
. I completely adore this entire family. Can I please have them? You have no idea the grin that split my face when Mauvin showed up for the first time. Sure, he was being a little bit of a punk, but he
was
only twelve. And he made up for it later.
This book was a great installment in the Riyria world. It delves more deeply into my favorite characters, and also gives some nice insight into what was happening in Medford before the events of
The Crown Conspiracy
. There were a few times that I just wanted to tell the characters who is who and who
needs
to be killed now. But then, we wouldn't have the Riyria Revelations if we did that, so I guess I'll have to be content.
There were a lot of dark and sad moments in here. There was death, betrayal, injury, humiliation, you name it. But there was also hope, love, and loyalty. The ending was satisfying and left Royce and Hadrian in a good place, on there way toward another adventure. I can't wait to read the next installment in this series, and hope that there are many more to come.