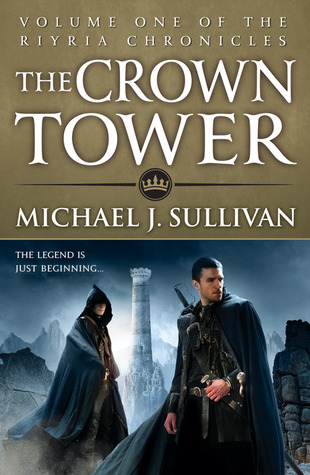 Title:
The Crown Tower
(Riyria Chronicles #1)
Author: Michael J Sullivan
Genre: Fantasy
Length: 358 Pages
Release: January 2013
Review
"Listen to him. Trust him. That's what he won't expect. It won't be easy. You'll have to be very patient. But if you are, you'll make a friend for life--the kind that will walk unarmed into the jaws of a dragon if you asked him to."
This is the beginning of the prequel series to the Riyria Revelations, which takes us to the very beginning of Royce and Hadrian's partnership, twelve years before the beginning of
The Crown Conspiracy
. I haven't read very many prequels in the past. The ones that I come across never seem like they are going to add a lot to the story, so I've never felt the need to delve into them. Particularly if it's a series that I like, because I don't want it ruined. Here though, I think a prequel series makes sense. It gives the characters even more depth than the main series did and gives us firsthand knowledge of what those first encounters were like.
I have to say it once again: Michael J Sullivan knows how to write compelling characters. If you've read the Riyria Revelations already, then the characters won't be new to you. They aren't the same, however. It amazes me how Sullivan is able to show, with just a few words and scenes, how these two have changed over time.
"I think everyone is after me until proven otherwise."
Royce doesn't have perspective chapters until over halfway into the book, just appearing as a shadowed stranger around Hadrian. This was an extremely clever way to introduce him, as you find out a lot about his background through Hadrian, which makes him more relatable than being thrown into his head from the beginning probably would have. He's dark, abrasive, violent, and
unfriendly
. But he's also very misunderstood. If you've followed my reading of the Riyria Revelations then you likely already know my love for this character, and that only grew here. There is just something about him that draws me in. I don't have his background (which I am very grateful for), but I find it easy to relate to paranoia and fear. I also love to see how much he grows. Because if Royce can grow, anyone can.
"Everyone was a stack of accumulated experiences, and seeing how that pile wobbled when it moved could reveal secrets."
It was interested seeing this younger Hadrian. With Royce it was always easy for me to imagine what he would have been like when they first met, but Hadrian was harder to picture. This colored in all of the missing pieces. He was young here, only about twenty, and already suffering from the mistakes he made. He's constantly underestimated because of his youth, which I found endearing. He's a trained killer and could probably singlehandedly take on a dozen other men, but his young face and kind demeanor give him an appearance of innocence that most cannot easily overlook.
"You're a hero and you can see the future."
I was really excited to see Gwen get perspective portions in this novel. She was always somewhat of a mystery in the Revelations and I always wondered about her. Here we finally find out more about her story; where she came from, what she can do, how she ended up where she did and
why
. Her story is really sad in a lot of ways. But it's also really great. She's strong and although she is forced to make decisions she would probably rather never have to make, she doesn't let that beat her. I'm really excited to see more of her through the other books.
"Ever notice how the word friend is only one letter away from fiend? Maybe it's a coincidence, maybe not."
This is the beginning of the Royce and Hadrian bromance that has made the Riyria books so popular. Two very different men, from completely different backgrounds, who become best friends and partners. What's not to love?
It was great to see the first meeting between these two, to feel the dislike they had for each other. And their back and forth is fantastic, even from the beginning. It's harsher, less teasing, than later in their relationship, but just as entertaining. This is definitely a slow build friendship, which really makes it even more powerful. Isn't it nice to know that not all first impressions have to be last impressions?
There are two main stories in this, set to converge. We follow Royce and Hadrian as they are forced to partner by an old professor, seemingly for no reason. And then there's Gwen, taking her own life in hand and waiting for the mysterious
him
.
I've heard different opinions on whether you should start with the Chronicles or the Revelations, but I don't think you can go wrong either way. Just read them all.