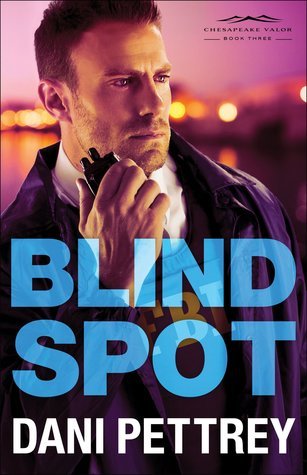 Title:
Blind Spot
(Chesapeake Valor #3)
Author: Dani Pettrey
Genre: Romantic Suspense
Length: 336 Pages
Release: October 2017
A review copy of this was received through Netgalley in exchange for an honest review.
Review
Blind Spot is the third novel in Dani Pettrey's Chesapeake Valor series, and the first thing you need to know is that it absolutely does not stand alone. Sure, you could read and enjoy it, but you'd probably be pretty confused about who was who for a while, and one of the two main plot threads is directly continued from Still Life. So if you haven't read Cold Shot and Still Life yet, do yourself a favor and pick those up before you dive into Blind Spot!

I really liked Cold Shot, and I enjoyed Still Life, but Blind Spot is on another level. It continues the terrorist plot started in Still Life, so check out Still Life if you haven't already read it. Then there's a side mystery involving a financial planner connected to the characters. With so many plot threads, the story could become confusing, but I had no trouble keeping track of everything.

The main romance between Declan and Tanner was set up in Still Life, and it was nice to see that paid off in this novel. Tanner ended up being a much more interesting character than I'd anticipated, and I'd love to learn even more of her story. As for the suspense, I felt like this was just as suspenseful as Still Life, though not as dark.