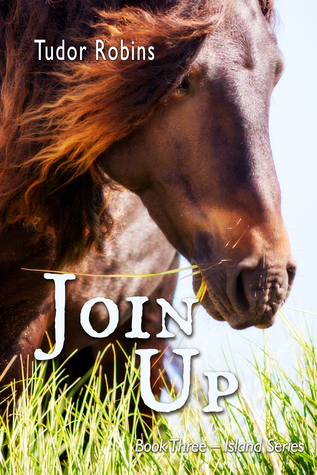 Title:
Join Up
(The Island #3)
Author: Tudor Robins
Genre: YA Romance/Equestrian
Length: 196 Pages
Release: December 2015
My Rating: 3/5 Stars
I received a copy of this novel through Netgalley in exchange for an honest review.
Review
This novel picks up several years after the conclusion of Wednesday Riders and now follows Lacey, instead of Meg, as she ventures off to work as an instructor at a riding camp.
The switch from Meg to Lacey as first person narrator, was a little surprising, but not a bad thing. While I didn't feel that Lacey felt like the same character as she was in previous installments, she was likable enough. In this novel she's preparing to head off to University, but first she has to save some money. She and Carly, another of the riders from the previous book, head off to work at a summer camp. But there is drama waiting there. And it's drama of the love-life variety.
Lacey was a little more insecure than I would have expected when it comes to love. She hadn't had a boyfriend, up to this point, let some guy kiss her and then start dating her friend without saying anything, and still fantasized about that kiss. I know, I had my share of teen angst and turmoil with friends and love, but this wasn't what I expected from Lacey. She always seemed strong willed and independent, whereas here she seemed more afraid of upsetting people, even when they needed to be upset.
The horse aspect of things was slightly better here, but still not as in depth as I would have liked. There seemed to be more development with Lacey and Night than there had been with the horses in the previous books, which I liked, it just wasn't really incorporated enough. Just like in the previous books, the horses felt like a side story and not a focus point, which was not what I was expecting going into this series.
Just like with the previous books, there is plenty of teenage love drama going on here. Lacey and Fitch have a funny banter that starts out as friendship and continues into something more. I thought they were cute, but I wish that everything didn't have to be about finding a boyfriend or making out. I'm just glad that Lacey realized not everyone was a loser like Cade.
Meg and Jared make some appearances, seeming to be a perfect couple. The years have gone well for them it seems, though there isn't too much detail into what they're up to aside from their farming and riding. They didn't feel like the same characters to me either, which I know would be hard since so much time is supposed to have passed.
The drama was handled much better in this installment than in the previous one. While there was still stuff that annoyed me, things were handled in a more grown up way in general, which improved the book in my eyes. I do think that there was a bit too much going on in this book that wasn't entirely needed. A little more focus on the horses, a little less on romance, maybe dial down the family drama, and this could have been just the book for me. The conclusion was fairly satisfactory and leaves enough open for future books, if the author chooses to write any more.
This was definitely an improvement over Wednesday Riders, but still wasn't quite the book for me. If you enjoy teen romance and drama, with a sprinkling of horses, this would definitely be a book to check out.