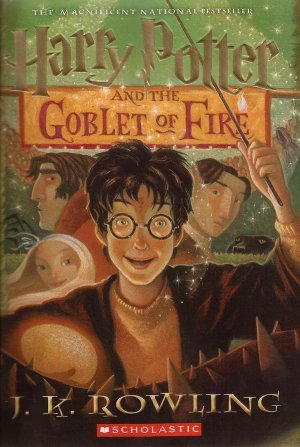 Title:
Harry Potter and the Goblet of Fire
(Harry Potter #4)
Author: J K Rowling
Genre: Middle Grade Fantasy
Length: 734 Pages (Paperback)
Release: July 2000
Review
The Goblet of Fire has never been my favorite of the Harry Potter series, but it was enjoyable to revisit the world nonetheless. There are many things that I had forgotten and having them all refreshed was a lot of fun.
Each installment of the Harry Potter series gives a darker vibe, hinting at a final battle between good and evil. And this installment is no exception. It had darker themes than the previous three installments, with more death and destruction. But it is nicely layered with the regular day to day life of a fourteen-year-old wizard.
The length of this novel is the main thing that I really have an issue with. At over 700 pages (in paperback, at least), the main plot point--the Triwizard Tournament--barely makes up 100 pages. Each task is only around a chapter, and even then things seem kind of rushed. There are many side plots that happen between the three tasks, and finding out about other wizarding communities is interesting, I just expected more from the tasks themselves.
Throughout the novel I also became very frustrated with Ron and Harry. I understand them both, in theory. I just wish it felt like they learned something from the experiences they have. Instead they continue as they have before, hoping that nothing challenges them in that way again. Or ignoring whatever it is that does bother them. There are a few chapters where they are both extreme jerks, and I was not ok with that.
Obviously Fred and George were my favorite portions of the story, though they are not featured much. The entire Weasley family is pretty great and it's nice to see them interacting. They don't all get along, they are all different, but they have a connection that no one else can truly understand or appreciate.
Also, this is probably a very unpopular opinion, but I really don't understand why Dumbledore is needed in most of the books. I understand that he plays a role overall, but I find him mostly useless. Instead of actually doing anything he lets other people (usually young teenagers) solve his problems. And things that he should notice just slide right past him. All of this is extremely frustrating, particularly when all of the characters are singing his praises.
It was nice revisiting this installment and I look forward to a reread of The Order of the Pheonix very soon.