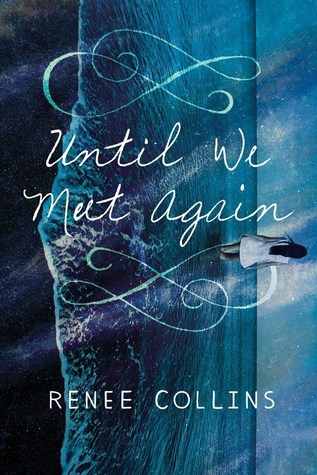 Title: Until We Meet Again
Author: Renee Collins
Genre: YA Romance, Time Travel
Length: 336 Pages
Release: November 2015
My Rating: 4/5 Stars
I received a copy of this novel through Netgalley in exchange for an honest review.
Review
First, let's look at that cover. Covers aren't generally what draws me to a book (I'm more of a title person), but this one is very beautiful. I love the ocean and this moonlit view of the ocean is gorgeous. Also, it plays a big role in the novel.
This book, while not necessarily grouped in my favorite genre, was addictive. I read it in one day and had a hard time putting it down. The writing was nicely done, the story was interesting, and everything just flowed so smoothly.
Cassandra and Lawrence meet on the beach and confusion ensues. Both of them claim to live in the same house...Only Lawrence is in 1925 and Cassandra is in 2015. The two fascinate each other, however, and no matter what they tell themselves they can't stay away from each other. The love story, while fast, wasn't extremely insta love like. There was some relationship building that made it enjoyable and not cringe worthy.
I always find time travel really interesting and I actually enjoyed how it was done here. There were some intense moments when they realized decisions they were making together was affecting the future-Cassandra's time. Very interesting. The beach is their one link to each other, everywhere else is their own time. Imagine walking through a house and knowing that your friend is walking through the same house a hundred years in the past. A friend that you're about to go see. Talk about mind numbing.
There's a mystery here that's interesting, but rather predictable. It mostly plays an important part because it connects Cassandra and Lawrence and forces them to acknowledge their connection.
The ending to this book was perfect. It wasn't all happy and sappy, but it works. I don't always want a happily ever after and we didn't get one here (although we didn't not get one either). It's kind of a tragic love story but so beautifully wrapped up.
Highly recommended for lovers of YA romance and time travel novels. It's fun, fast, and sweet.