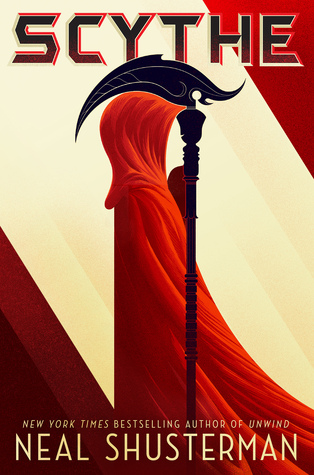 Title:
Scythe
(Arc of a Scythe #1)
Author: Neal Shusterman
Genre: YA Sci-fi/dystopia
Length: 435 Pages
Release: November 2016
Review
This was my ninth novel by Neal Shusterman and he still manages to amaze me. I have yet to be disappointed by him. His world building is absolutely stunning.

Scythe follows two teens who live in a futuristic world where death by natural causes has been eradicated. In order to keep the population manageable (since people continue having children) Scythes "glean" a certain number of people each year. Our two leads, Citra and Rowan, are chosen to be apprentices by an honorable Scythe who is impressed with their moral character. But not everyone is as upstanding as Scythe Faraday and things take a rather dark turn.

Rowan and Faraday were by far my favorite characters in the story. I found them much easier to connect with than any of the other characters and really hope that we see more from both of them in the sequel. There were points throughout the novel where I felt rather detached from the characters and their concerns, but I always found it interesting.

The chapters are separated by entries from the Scythes journals, where they contemplate the things they have done. Some of these were dark, some of them sad, but all of them interesting. Again, this really shows Shusterman's skill with world building, as this made it all that much more real.

If you enjoy good young adult science fiction with dystopia elements, this is definitely a series to try. If you have enjoyed other works by Shusterman, I think you will not be disappointed with this.