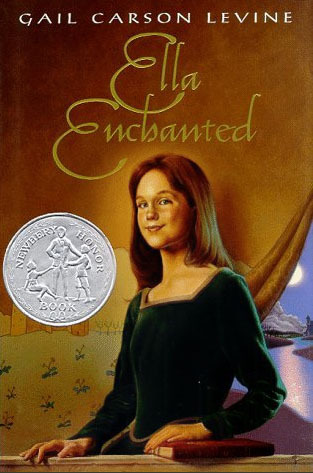 Title:
Ella Enchanted
Author: Gail Carson Levine
Genre: Middle Grade Fantasy/Fairy Tale Retelling
Length: 232 Pages (Paperback)
Release: January 1997
My Rating: 5/5 Stars
Review
I've read this book somewhere between five and ten times and I love it more every time. Ella is a compelling character with all of the flaws that you would expect of someone cursed to be obedient. She also has a great heart and loves those around her.

One great thing about Ella is that she is strong and not afraid of sacrifice. She doesn't want to hurt anyone (herself included), but she would do so to save those she loves and her land.

There is a touch of romance between Ella and Char, the prince of the land. But this relationship is very nicely and slowly developed. The two meet, like each other, become friends. It's not overly done. And their interactions are always hilarious. Ella loves making him laugh and because she's a witty girl, she does so often.

The world of this is very well detailed and imagined for so short a novel. There are various peoples and customs--giants, ogres, elves, gnomes, and fairies among them. Ella interacts with them all, with varied degrees of success.

Ella's stepmother and stepsisters are every bit as repulsive as you would imagine them to be. They are each cruel in their own way. And they care for nothing but money and grandeur. They prey on those weaker than they in an attempt to make themselves stronger.

My advice if you have not yet read this novel: go and do so. If you have any inclination to read a middle grade novel based on Cinderella, then pick this up and give it a try. It can truly be a magical read.