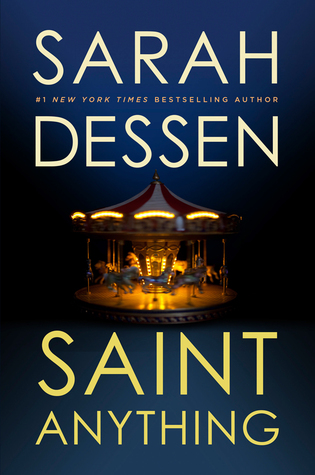 Title:
Saint Anything
Author: Sarah Dessen
Genre: Young Adult Contemporary
Length: 417 Pages
Release: May 2015
Review
Saint Anything is Sarah Dessen's twelfth published novel and her eleventh novel that I have read. In many ways, this was her best work yet.
Dessen's novels are the perfect contemporary. Her characters are real, average teenagers for the most part. Her books aren't full of glamorous lives or people who don't have to work, but regular girls just trying to find their place in the world. And that's what I love about them.
This story follows Sydney as she changes schools to run from the shadow of her perfect (but not so perfect) brother. She makes new friends, finally opening up about the things that have haunted her since her brother got in trouble. She finds a group of other kids who get her in ways she didn't think anyone would be able to.
Dessen really showed her growth in the overall balance of this story. There is the complicated family dynamic that pops up in all of her stories. New and old friendships. A touch of romance. And general self growth. All of this was blended together so well that it just worked. It never felt like one aspect of the story outweighed the others, even when certain things were frustrating.
Sydney's group of friends were wonderful. Layla was a fantastic character with her own flaws. Her insecurities were manifested through her various romantic mishaps as she repeatedly chose the guys that treated her terribly. And while this was painful to see, it was relatable. And you got to see her grow through it. She was the best friend for Sydney to make in this new life. Along with her brother, Mac, and the rest of their family, Layla helped Sydney see a new side of life.
I was very frustrated with Sydney's parents throughout. It was understandable that her mother wanted to help her son, but the way she went about it was quite disappointing. It would have been nice to see a little more acknowledgement from her that what happened was wrong and that her son was the culprit, not the victim. And the father...well, he was a tad disappointing. He cared about the family, but didn't seem to try that hard. Also, why would they leave their seventeen-year-old daughter in their house with some random guy their son met while in rehab? That does not seem like a smart move.
The ending was a bit abrupt. It would have been nice to know the outcome of a few things, particularly concerning an event that took place near the end of the book. But overall I think it ended on a high note. Sydney was being seen, and heard, for the first time in a while.